Title: The Greatest Showman
Genre: Drama/musical
Running length: 139 min
Release: Dec 20, 2017
Although I'm incredibly fond of live musicals, cinematic adaptations have always felt more like stunted variants, denied their true theatrical potential. Like birds trapped inside cages. Imprinted on my brain is the memory of seeing Les Miserables (2012) on the silver screen, and departing the cinema with a gaping wide sense of dissatisfaction. Surely, film could never match the authenticity of seeing Hairspray (2011), Wicked (2014) and Aladdin (2017) performed on stage. I was too besotted with imperfect soaring crescendos and colourful props to ever think otherwise.
Upon seeing The Greatest Showman, my beliefs have been seriously challenged. Helmed by a star-studded cast, its inspirational tale of perseverance, self-acceptance and celebrating diversity shot an arrow straight into my movie-deprived heart. Hugh Jackman excels as circus ringleader P.T. Barnum, bringing charisma, imagination, and relentless optimism to an unforgiving world, while Paul Sparks (James Gordon Bennett) counters with an equally impressive display of joyless cynicism in his role as critic. Driving Barnum's ambition to succeed is sweetheart Charity, an endlessly supportive (if slightly unrealistic) character skilfully portrayed by Michelle Williams. Zac Efron draws upon his musical roots (High School Musical) to animate highbrow playwright Phillip Carlyle with just enough vigour, and is beautifully complemented by Zendaya (Anne Wheeler), whose vocal talent doesn't outshine her acting.
Standout tracks include the recurring A Million Dreams, magical duet Rewrite the Stars, booming, unapologetic victory anthem This is Me, Rebecca Ferguson's (Jenny Lind) dazzling ballad Never Enough (sung by Loren Allred), and the edifying From Now On. During conversations with other critics, it came to my attention that The Greatest Showman strays towards musical repetition of a central theme, which some found to be monotonous and uninspired, but I beg to differ. Like Wicked before it, The Greatest Showman uses clever auditory twists and motifs to drive home its various messages. Adding further dramatic flair, the costume design explodes with patterns and ostentatious accessories, completely befitting the crazily quick (but digestible) progression of the story.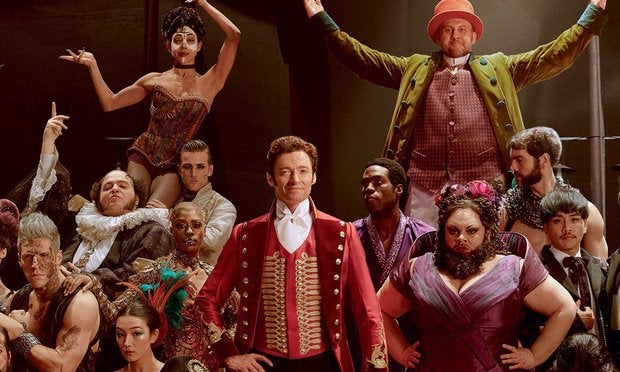 In elevating himself from wretched poverty into fountains of wealth, P.T. Barnum comes to the painful discovery that there are things more important than success; roaring auditoriums and the gushing praise of critics mean little without the family and friends who helped orchestrate those dreams in the first place. The most wonderful treasure of all is not public validation or a pocket full of coins, but a reciprocated, unconditional love from people we have met along our journeys, no matter how strange and quirky they may be. The Greatest Showman's cheesy morals still manage to strike a chord, and in combination with a glorious soundtrack and eclectic attire, convinced me to reconsider my views on screen-bound musicals. Some of them can be truly great, and this is one of them.
Recommended.
PLOT: ★★★☆☆
VISUALS: ★★★★☆
SOUND: ★★★★☆
REWATCHABILITY: ★★★☆☆
---
OVERALL: ★★★★☆
80/100